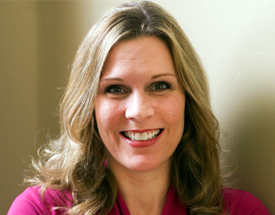 Carrie Ontiveros of the Aspiranet Bakersfield office has been recognized as AdoptUsKids' January caseworker of the month.  We are proud to have the excellent work of our staff recognized by an organization that helps raise public awareness of the need for foster and adoptive families on a national level.
"I had read the caseworker of the month stories on the AdoptUsKids website before but had never imagined that I would be nominated one day," Aspiranet Adoption Supervising Social Worker Carrie Ontiveros said. "I am honored by my nomination by the Gills family and glad that I was able to help them successfully navigate the path toward adoption."
In her featured article, Ontiveros speaks highly of the adoption process and encourages anyone to consider this path to expanding their family.
"My advice to families would be to have patience with the foster care/adoption system" Ontiveros said. "Part of my job is to support families as they navigate their way through the foster care and adoption system. My hope is that I can make the process, no matter how frustrating, a bit easier for them."
Are you interested in learning more about adoption through foster care? Please contact us or give our recruitment team a call at (877) 380-HERO.