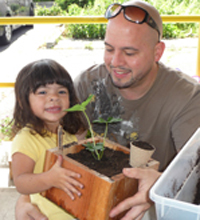 The Delta First 5 Center in Brentwood, CA hosted its first "We All Grow" event from 10:00 am – 11:30 am Saturday, April 16th. This free event was designed to give families with children 0-5 an opportunity to explore creative ways to engage children in outdoor learning and healthy eating to support lifelong habits to promote wellness and healthy living.
Families were encouraged to plant tomato seedlings and flowers with their children in redwood child-size planter boxes and create plaster stepping stones for garden spaces on the Center's outside patio.  Families were then encouraged to create their own salads at the Center's child-friendly fruit and salad bar stocked with a variety of novel toppings including craisins and snap pea crisps to encourage families to explore healthy snacking and vegetable options.
Since it first opened in 2004, the Delta First 5 Center has offered programs, support groups, parent participation classes, and activities that promote Early Literacy and Learning, as well as Parent Education, Prenatal/Postpartum and Transition to Kindergarten Support.  Families that visit the center live primarily in the Brentwood, Oakley, Antioch, Discovery Bay and outlying areas.
First 5 recognizes that children learn and grown more during the first 5 years than at any other time in their lives. In partnership with parents, caregivers, and public and private organizations the center supports a comprehensive integrated set of sustainable programs, services, and activities designed to improve the health and well-being of children, prenatal to five years of age; advance their potential to succeed in school, and strengthen the ability of their families and caregivers to provide for their physical, mental and emotional growth.
Children attending the event enjoyed the benefits of self-directed play and experiential learning while planting and building plaster stepping stones; exercising both problem solving and socio-emotional team building skills.  Many parents expressed their delight at having the opportunity to spend quality time with their children away from home on the weekend. The Center's Community Resource Specialist (CRS) also took the opportunity to introduce herself and her services to families.  The role of the CRS is to meets one-on-one with family members to provide information, referral, and follow up to facilitate access to available community resources for eligible individuals and/or their families.
More than12 families were attendance with over 25 children and 1 new family from the community registered to participate in the Center's services. The success of this event was supported by the following local merchants, community members and their donations; Perez Nursery of Brentwood CA with a donation of more than 87 plants, Home Depot of Antioch CA with a donation of 12 children's gardening aprons and 3 cubic liters of soil for planting, and community member Richard Hodges who generously donated materials and his time to build 30 child-size planter boxes.
Families at the event realized that the Center is a place where center staff collaborate with community members to provide classes, support and encouragement to help them grow with their children.