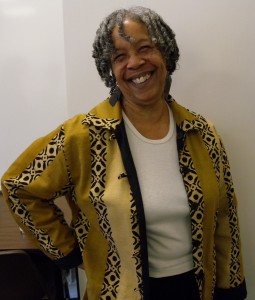 Juanita Croft
Mouse Squad Student Tech Leadership Volunteer
Mouse Squad is one of Aspiranet's afterschool programs, providing enrichment and learning opportunities to young people.
After a 25-year career at Foothill College as a computer lab supervisor and instructor, Juanita Croft thought she was ready for retirement. It didn't turn out as she expected. "I tried traditional retirement and got depressed,"explained Juanita. "I realized I needed to stay busy to stay healthy and to keep my mind stimulated." So Juanita started looking for ways to use her skills and talents to promote technology in under-resourced schools and neighborhoods.
Returning to her East Palo Alto roots, she began working part-time in the Ravenswood School District training teachers and parents in general computer skills. It was there that she came across MOUSE Squad, a program of Aspiranet that empowers students to provide technology leadership and support in their schools and communities.
Through MOUSE Squad, Juanita was given her first chance to work directly with kids as a volunteer. While she had to figure out simple ways to explain technology concepts to the middle school students, Juanita discovered that they were fully able to grasp the material, sometimes even more quickly than her students back at Foothill College! She got hooked.
Juanita"s advice to other retirees? "Leave your options open and jump on all sorts of opportunities to be engaged in the community." She recommends networking, taking classes, and showing up at community meetings. "Try something even if you're not comfortable with it. Accept feedback and make it better," says Juanita. "Take the time to find common ground between what non-profits need and what you have to offer."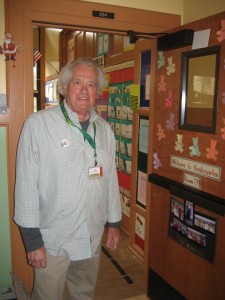 Fred Brundage
AARP Experience Corps Bay Area
Aspiranet has joined with AARP Experience Corps Bay Area to help retirees put their valuable skills back to use in the community.
At 55, Fred Brundage had already had a full career in insurance and sales, combined with a 12-year stint with the San Francisco Chamber of Commerce. But instead of retiring, he enrolled in an 18-month program at the San Francisco Culinary Academy, later becoming the manager at several well-known Bay Area restaurants.
With a flexible work schedule for the first time, Fred began volunteering during the week as a literacy tutor at the public library and discovered that he loved working with children. When he fully retired in 2009, Fred decided to make a deeper commitment to education, joining Experience Corps Bay Area, a program that trains adults 55 and older to be literacy tutors to under-served public school students in grades K-3.
Over the past three years, Fred has spent 15 hours each week tutoring and mentoring over 25 children one-on-one and providing general classroom support to three classrooms. Fred currently volunteers at two struggling elementary schools in the Excelsior and Western Addition neighborhoods of San Francisco.
In 2010, the graduating Kindergarten class at John Muir Elementary tested 85% proficient in language arts, the highest Principal Chris Rosenberg had ever seen in all his years as an administrator. Fred had been a tutor in two of those classes. "Fred is an important factor in this success story," declared Rosenberg.
Today, Fred continues to enjoy his role as a tutor and mentor and is passionate about encouraging other seniors to join Experience Corps to fight for social justice in education. "Fred has such a commitment to strengthening this community," says Brooke Agee, the Experience Corps Member Relations Coordinator. "He's a caring, intelligent, and humble man – a true asset to our program."
Luz Arciniega
Delta First Five Center Volunteer
Aspiranet's Delta First 5 Center offers services to families with young children ages 0-5 in partnership with parents, caregivers, and public and private organizations.
Luz Arcineiga's life turned upside down when her son was diagnosed with autism. He was just one year old. As Luz recounts, "I didn't know what to do or even what questions to ask."
Then she heard about a support group for parents with autistic children at the Delta First Five Center in Brentwood, a center that provides free programs and classes to expectant parents and families of children from birth to five years throughout Contra Costa County.
From day one, Luz was embraced by the supportive community there. "I came to First Five and everything changed for me. I began to see things in a different way," says Luz. "My son was able to attend regular classes and learn from all types of kids."
As Luz received services from First Five, she began to see ways she could contribute as well. An immigrant from Mexico, Luz began inviting other Spanish speaking parents to come to the Center. "There's a lot of stress for them around the economy, and a huge need for helping them deal with the behavior of their kids."
The staff at First Five noticed that parents and children would naturally gravitate towards Luz and eventually invited her to become a parent mentor at the Center. Luz jumped at the opportunity to coach parents in what she had learned through First Five: that parents are their kids' first teacher.
With little professional experience, Luz began taking classes herself first – to improve her English and classes on child development and leadership. She looked for opportunities to serve as an advocate for parents in crisis, and she took the initiative to recruit fellow Spanish speakers to join Delta First Five's Community Advisory Council.
As Director Debbie Ogle reflects on Luz's journey, she is proud that Delta First Five could be a place for Luz to both receive support and be empowered to give back. "To start with no experience and then take her passion and learn and grow, she's had a huge impact on families and kids at our center," says Debbie. "It's inspiring."
It's equally inspiring to the 65 parents Luz has mentored over the last six years. "I like helping parents," says Luz. "I know their life is hard. What I'm doing right now is my passion."